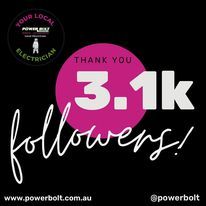 The #1 Trusted Brisbane North Electrician.
Power Bolt Electrical proudly services one of Brisbane North.
For reliable electrical services .
Brisbane North is home to a great diversity of residential, commercial through to modern apartment complexes, shopping centres..
Switch board upgrades
Smoke Alarms
led lighting
Security lighting
Power points / USB /
Shed Wiring
TV points
TV mounting
Safety switches
Oven & Cooktops
Electric Hot water system repairs
Ceiling fans
Air Conditioning Installations
Air Conditioning Sales
Plus lots more.
5 Star reviews
Get the right advice for your family home.
Power Bolt are truly devoted to excellence. We're the only local  electricians with 100% 5 Star reviews on both Facebook and Google so you can be confident we'll take care of you.
We're committed to our quality of work and don't leave until your satisfied.
Fully qualified and licensed with a Active Safety Management System.
Daniel & Andrew installed some ceiling fans, smoke alarms & brought our safety switch up to code today. The guys were on time, professional & good-humoured. Daniel found a couple of unexpected problems which he fixed without extra charge. Thanks Daniel, that's pretty rare these days. Your service & work ethic are exceptional. I highly recommend Bolt Power. Will definitely use Daniel & his team for any future electrical work I have.
Positive:
Professionalism
,
Punctuality
,
Quality
,
Responsiveness
We had a fan that PowerBolt originally installed originally, Dan was amazing in helping us when the fan stopped working. His communication skills, time management and his willingness to help made the whole experience an easy process.
Services:
 

Fan installation

, 

Installation

, 

Light fixture repair
Positive:
Professionalism
,
Punctuality
,
Quality
,
Responsiveness
,
Value
Outstanding service by Daniel and his team. Great communication leading up to arrival, no job was a hassle. Arrived on time, finished on time and didn't even leave a mess! Will absolutely be using these guys again.
Services:
 

Electrical panel replacement or upgrading

, 

Light fixture installation

, 

Outdoor lighting installation

, 

Electrical outlet & switch repair

, 

Electrical outlet & switch installation
Power Bolt - electricians you can rely on
✔ In home quotes. Daniel & the team visit Homes daily for assessments.
✔ 100% Happiness promise. We don't leave until your happy.
✔ Polite, respectful & tidy.
✔ Preferred installer for Lighting Illusions.
✔ Over 250 Google positive reviews and counting….
Call Power Bolt today on 0403653153 or a fast, friendly & professional quote.
Property Managers Needing a new Electrician?
Brisbane North home electrical work done on-time at a reasonable price.
We do a lot of electrical work for real estates and property managers. We have dedicated admin staff to book your job and ensure our vans are on-time.
We have a current special on smoke alarms  to help bring your property owners in line with new legislation. This is a must do compliance requirement for insurance companies 
Emergency Electrician Brisbane North
Electrical faults are a fact of life, but when it happens in the middle of the evening or day it's a real pain. Give Power Bolt a call and our emergency electrician in area will assist right away!
Get in touch, day or night. We'll get you running again!
WARM UP YOUR HOME!!!!
Mitsubishi Heavy or Mitsubishi Electric 2.5KW starts from $1850.
3 m pipe.
3 m duct.
10 m Electrical.
Wall bracket or Poly Slab.
Additional costs apply for extras.
Beat the Cold or the Heat!
Call 0403653153
Or
Email powerboltelectrical@gmail.com
(Other sizes available)
Licence 75590
Arc : AU46568
Red Smoke Alarms 10 year warranty
4 bedrooms 2 hallways 1 wall control Normally $1287
October-November 2023 ONLY $1144
Additional alarms extra
Licence 75590
Message or Call 0403653153
Warm up your bathroom
Electric Oven need repairs or replacement?
Time for a new oven?
Power Bolt Electrical Supplied and installed
Like for Like Change over
60cm Electric Oven
(Stainless) or (White)
$895
5 Function Multi-Function
Rotary Controls
80L Gross Capacity
120 Minute Auto Off Timer
Price doesn't include a Safety Switch
Estimate $180-$250 if required
Call 0403653153
Licence 75590
Clipsal down lights 9W Tri Colour Leds.
3 year warranty.
Replace existing down lights $49 each.
Includes led 413 socket and labour.
Install new from $80 each. includes led cable 413 and labour.
Switches and Safety switches will cost extra.
Book in a free quote.
Call 0403653153
Licence 75590
Caloundra 1300mm 4 blade fan 18W led. White only $440
Caloundra 1300mm 4 blade fan only
White $380
New installation Supply install from $480
Or
New installation Supply install fan only $400
Standard installation low set house with
ceiling access.
3 year replacement warranty
If a safety switch is not on circuit additional costs will apply.
Licence 75590
Call or Text 0403653153
Lighting Illusions - Exlcusive Deals
We Recommend Lighting Illusions Northlakes.
Purchase from them and get our value Installation prices Below.
Tell them Power Bolt Electrical sent you for a Discount.
Smoke alarms
Basic New installation service Smoke Alarms $400
.
Basic install
Basic installation replacements 2-3 Existing Hardwired alarms and  installation of additional 3-4 Wireless Lithium Alarms and 1 Wall Control.(Additional hardwired or Alarms extra charges apply)

Installation and programming of alarms included in the box. (Safety switches extra charges apply)

Safety certificate or compliance certificate as applicable
Disposal of packaging and site clean-up
Maximum 3m ceiling height
Basic internal or external light Replacement
$200 first light
$55 any additional
Basic includes
Replacement of a existing standard light.(Chandelier or large pendants not included) must be installed in place of an existing light using the existing wiring/connections. (Additional costs for Safety Switches)

Disconnection and removal of the existing light and installation of the new light
Safety certificate or compliance certificate as applicable
Disposal of packaging and site clean-up

Maximum 5m installation height
Basic New installation service
$200 

for your first fan
$180 for each additional fan
Basic install
Standard installation where there is no prior ceiling fan in position plaster ceiling

Assembly and installation of new fan and switches included in the box. (additional switches or safety switches extra charges apply)

Safety certificate or compliance certificate as applicable
Disposal of packaging and site clean-up
Maximum 3m ceiling height
Basic Replacement  
$200

 for your first fan
$150 for each additional fan 
Basic replacement
Standard replacement where there is prior wiring and replacing a existing ceiling fan in position plaster ceiling

Assembly and installation of new fan and switches included in the box. (additional switches or safety switches extra charges apply)

Safety certificate or compliance certificate as applicable
Disposal of packaging and site clean-up
Maximum 3m ceiling height